Archive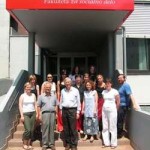 Vom 20-23.Juni 2005 fand eine Grundschulung zu GABEK und zur Software WinRelan an der Universität Ljubljana in Slowenien statt.
in Qualitative Research – Different Perspectives – Emerging Trends, 2004
It is one of the central tasks of the social sciences and humanities to show ways and means of creatively processing complex problems in our society. Such problems are generally unstructured and difficult to define. Frequently they are tied to dynamic situations affecting a large number of individuals or groups of individuals. On the other hand, the experiences gained by those affected, e.g. the employees of an institution, contain creative problem solving potential.